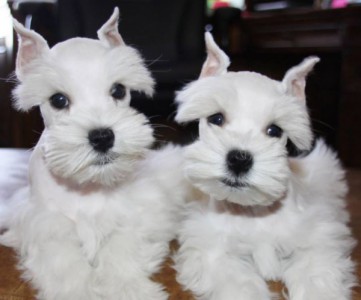 Schnauzers 101 is dedicated to ensuring you have all of the information you'll need to provide and care for the newest addition to your family. We're aware that many people who would like to own one of our schnauzer breeds are new to caring for these precious creatures, and it may be there first time as pet owners.
Our job is to make sure new owners feel empowered with the knowledge, and that they can provide adequate care for their fun-loving pet. To that end, we offer a number of additional services to our customers to give them confidence in the pet buying experience we provide.
Many pet sales services offer you an animal as is and wipe their hands of a cat or dog once it's sold. Schnauzers 101 is one of a few breeders that offers a 10-year lifetime health guarantee and contract on every pet puppy we sell.
We're able to offer this extended guarantee on our puppies because of the long history we have with our dogs genetics. We provide all of our customers with the fullest medical records they could hope for, including all shots, worming, NuVet vitamin, registration papers and Heartgard information. You know your pet is protected as much as possible.
More than any other service in our field, we're also interested in promoting the social life and mental health of our animals by giving them an enjoyable life. We record what our animals eat and give customers a snapshot of what food they've been eating to make sure they enjoy the same diet in your care. We'll even provide you with a collar as well as any special treats or toys these baby schnauzers have enjoyed during their time in our care.
There are so many reasons to buy your next pet through Schnauzers 101. When you're looking for a new addition to your family, please know that after we sell you a new Schnauzer baby we will also help you with anything we can for as long as you have your Schnauzer.  We offer a lifetime of support to you.